Abdominoplasty (Tummy Tuck)

in New Orleans
It is common to be left with loose stomach muscles after pregnancy or significant weight loss. This loss of tone can lead to a protruding belly, excess skin, or both.

Unfortunately, diet and exercise are ineffective in reversing this phenomenon, particularly because a healthy lifestyle can do little in tightening loose skin or repairing separated abdominal muscles.

If this sounds familiar, a tummy tuck (abdominoplasty) may be the solution you are looking for.

Dr. Michele Cooper performs abdominoplasty for patients in and around New Orleans, Louisiana, at her Mandeville plastic surgery practice. Dr. Cooper is a board-certified plastic surgeon with 20 years of experience, known for her excellent tummy tuck results.

Call us today at (985) 626-6163 to learn more about abdominoplasty.
Are You a Good Candidate for a Tummy Tuck?
The ideal candidate for a tummy tuck will be:
In good health overall
A non-smoker or is willing to quit weeks before and after the procedure
Ready to stop drinking alcohol before and after the procedure
At their ideal weight or close to it
Someone with realistic expectations for the procedure
Ideally, someone considering a tummy tuck should not anticipate any future pregnancies because pregnancy can alter the results of the procedure.
Rave Reviews
Hear what some of our happiest patients say about their experience.
How Is a Tummy Tuck Performed?
The Consultation
It all starts with a consultation at our Mandeville plastic surgery office. You can expect to discuss your medical history, current health status, lifestyle, habits such as drinking or smoking, and the results you hope to achieve.
Dr. Cooper likes to spend an hour with new patients so that she can clearly understand your cosmetic goals in a friendly, unhurried atmosphere and provide you with all the information you need to make an educated decision about your tummy tuck procedure.
She carefully assesses your abdominal skin tone and the extent of your fat deposits while asking about the exact contour changes you desire. She will then explain the realistic results you can expect by undergoing abdominoplasty.
Other topics that Dr. Cooper will cover during your consultation include incision locations, the recovery process, and the risks involved.
Dr. Cooper will work with you to create a unique treatment plan that includes the correct technique for your best outcome.
Preoperative Appointment
Two weeks before your tummy tuck, you will return to Dr. Cooper's office to discuss all preoperative and postoperative instructions and confirm the previously discussed procedural plans.
The Abdominoplasty Procedure
An incision is made just above the pubic area that can stretch from hipbone to hipbone (depending on the amount of correction needed).
Dr. Cooper tightens the abdominal muscles during your tummy tuck to create a smaller waist and restore the abdominal wall for improved back and core support. Loose skin is then excised, and liposuction is performed to remove stubborn pockets of fat for a smoother abdomen.
What Is Abdominoplasty Recovery Like?
While the recovery experience will vary from patient to patient, you can expect the following to occur after abdominoplasty. Be sure to follow all Dr. Cooper's instructions.
Immediately after your tummy tuck, your incision will be covered with a surgical dressing. There may also be thin tubes in place to drain fluid that builds up.
You will need a ride home and some help for the first 24 to 72 hours following your surgery.
A support garment or wrap will be provided to help with swelling during recovery, and it's essential to wear it as directed by Dr. Cooper.
You will not be able to stretch completely and will have to rest at an angle for the first few weeks after your procedure. You are strongly encouraged to walk around as soon as possible to help prevent blood clot formation.
Pain medication will be prescribed to ease discomfort for the first week, and over-the-counter medicines can typically be used after that if needed. Other medications, including antibiotics, may be prescribed as well as a cream to use around the incision.
Drinking alcohol and smoking increases your risk of developing blood clots and can extend your recovery period. Dr. Cooper asks all tummy tuck patients to avoid these for several weeks before and after their surgery.
Non-strenuous activity can be resumed after a week or two, but squatting and lifting anything heavy is not recommended for up to six weeks. Dr. Cooper will advise you as each case is unique. You should give yourself a month to recover before returning to work or restarting an exercise routine.
You may experience some numbness or a pulling sensation after a tummy tuck, but this is normal and will diminish with time. Swelling can take up to three or six months to resolve, and your scar will continue to fade over time.
Following Dr. Cooper's post-op instructions and attending your follow-up appointments are crucial to a positive recovery experience and can also help ensure your ideal results.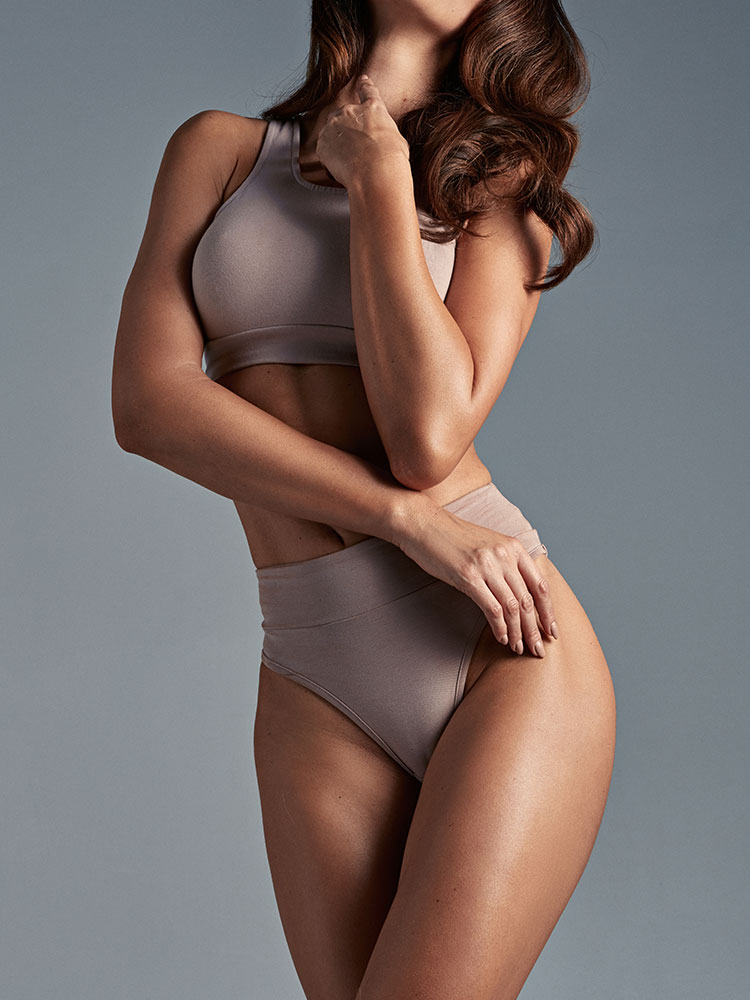 Turning Your Tummy Tuck Into a Mommy Makeover
During pregnancy, the expansion of milk ducts causes your breasts to grow, stretching the breast tissue and skin. This leaves many women with a deflated and sagging bust after pregnancy and breastfeeding.
If your loss of abdominal tone is due to pregnancy and you have also suffered adverse changes in your breasts, you can add a breast surgery procedure for a complete Mommy Makeover.
Your breast enhancement surgery options include the following:
Combining these procedures is ideal for women who are finished with childbirth since, as previously stated, pregnancy and nursing can produce further changes to your body.
What Results Can You Expect From a Tummy Tuck?
A tummy tuck can be an excellent way to achieve your aesthetic goals and restore lost confidence. After undergoing this procedure, you can expect to see a more slender and fit-looking body with attractive contours along your midsection.
The results from a tummy tuck are considered permanent, but of course, this won't prevent you from gaining and losing weight, which can impact your outcome.
Interested in a Tummy Tuck in New Orleans?
Contact Dr. Michele Cooper's Mandeville cosmetic surgery practice today if you would like to learn more about your New Orleans tummy tuck options. Dr. Cooper is a compassionate and well-respected female plastic surgeon who is happy to answer all of your questions or concerns.
Book your tummy tuck consultation by calling (985) 626-6163 or filling out this online form.